Sri Krishnadevaraya University (SKU), Anantpur was established in 1968 and had its beginning as the post graduate center of Sri Venkateswara University. It has gained autonomy in 1976. The autonomous post graduate center was given the status of the university in 1981. Initially, Sri Krishndevaraya University functioned as a unitary residential university. It was conferred the status of an affiliating University in 1987. The college is accredited by NAAC.
The university envisages its growth in terms of promoting equity and access, relevance, quality and accountability to redeem the irredeemable backwardness of the region through a massive educational uplift and contribution to a knowledge society, which alone offer the key to social change and economic emancipation. In a short span of two decades of its existence, Sri Krishnadevaraya University  gained recognition as a center of academic excellence, as it is accorded a four star status by the National Assessment and Accreditation Council.
Facilities at Sri Krishnadevaraya University –
Central library
Sports
Health Center
Hostel
Cultural Activities
Canteen
Lab Facility
Departments at Sri Krishnadevaraya University –
Department of Physical Sciences
Department of Management
Department of Law
Department of Languages & Literature
Department of Life Sciences
Department of Social Sciences
Affiliated Colleges at Sri Krishnadevaraya University –
Vidyaratna Dr.KGA Gupta Degree College
S.S.B.N. Degree College
C.V.L.N.R. Degree College
Sri Venkateswara Degree & PG College
Sreedevi College of Education
G. Pulla Reddy Engineering College
Viswaganga Inst. Of Science
PRR Inst. Of Management
Sri Prasuna College of Law
Islamia Arabic College
Master of Business Administration
Category: Business Administration
Degree: MBA
Mode: Full Time
Medium: Campus
Level: PG
M.B.A. – Stands for Master of Business Administration. Typically, an MBA is a two year postgraduate degree, eligibility for which is an undergraduate degree in business management or business administration. Subjects usually studied under this degree are Basics of Management, Statistics, Quantitative Techniques, Financial & Cost Accounting, Managerial Economics, Organizational Behavior, Marketing Management, Financial Management, Human Resources Management, Marketing Research, Industrial Relations, Consumer Behaviour, International Business , Software Solutions for Business, Relationship Marketing, Corporate Finance etc.
Duration :
2 Years
Basic Eligibility :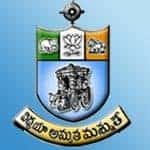 | | | |
| --- | --- | --- |
| Name | : | Sri Krishnadevaraya University |
| City | : | Anantapur |
| State | : | Andhra Pradesh |
| Country | : | India |
| Contact No | : | +91-8554-255231,255802 |
| Email | : | [email protected] |
| Website | : | www.skuniversity.org |
Please Note*
This information has been collected from institute / university website or by contacting the institute on phone. Trade Marks belong to the respective owners.
Are you Interested in studying at Sri Krishnadevaraya University (SKU), Centre for Distance Learning ? Fill in your details below and we will connect you with the institute.
Admissions Open
Are you interested in taking admission in any distance learning program? Apply now admissions are currently open.