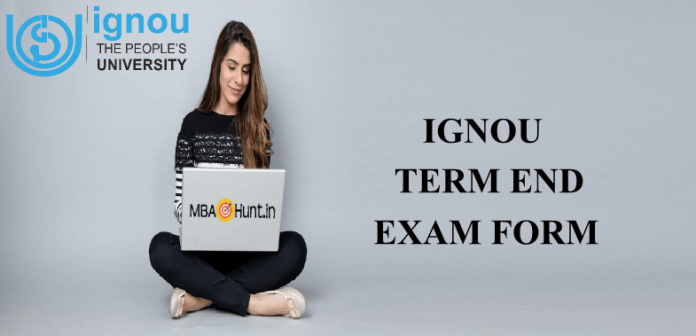 IGNOU Exam Form -Term End Examination June 2020
Facility for candidates to submit the IGNOU Exam form for term end examination – June'19 has been provided by IGNOU. Those candidates who have submitted their respective IGNOU assignment to the concerned IGNOU regional centre are now qualified to submit their IGNOU Examination Form – Term End for June'19 from 01st March'19 onwards.


IGNOU Fees for Examination and Mode of payment
Examination Fee
INR. 120 per course theory
INR. 120 per course practical
Mode Of Payment
Students can pay via Credit Card, Debit Card or Net Banking for submission of IGNOU courses fees.
Important Schedule for IGNOU Examination Form 2020 submission:
Submission without Late Fee:
Start date for exam form submission – 01st Mar 2020
Last date for exam form submission – 31st March 2020
Submission with Late Fee (Late Fee: INR.1000):
Start date for exam form submission – 01st April 2020
Last date for exam form submission – 15th April 2020 (Extended)
What to do in case of Unsuccessful Submission of IGNOU Exam Form:
What to do in case of unsuccessful submission of IGNOU Exam Form but payment got deducted through Credit Card or Debit Card or Net Banking:
Step I: If in the first stage, student is not able to the get his/her acknowledgment successfully.
Step II: In such a scenario, we suggest that the candidate should wait for atleast 48 hours before checking the exam form status submitted by him via available SEARCH OPTION on IGNOU website.
Step III: In case if you find out that in your search (Step 2) your IGNOU exam form is not get submitted. Please submit the examination form again.
Step IV: If candidate did not received his refund automatically via the payment gateway within 48 hours. He needs to apply separately for the examination fee refund.
Check Exam Center List – Click Here
Fill your IGNOU Exam Form -Term End 2020 – Click Here
Check IGNOU Exam – Term End June – 2020 Date sheet – Click Here


Prerequisite for submission of IGNOU Exam Form:
Candidates are suggested to ascertain that their registration is valid and that they are really eligible for the respective course or courses for which they are submitting their IGNOU exam form for the Term End Examination – June'19 as per IGNOU prospectus and program guide.
For the details of the registered IGNOU courses or course please Click Here
Candidates are advised to make sure that they had already submitted their respective IGNOU assignments as applicable for the course or courses for which they are submitting their exam form. Please Note: The courses for which candidate had not submitted their IGNOU assignments, for those courses Hall Tickets will not be issued.
Candidates can able to find on IGNOU University website (www.ignou.ac.in) their examination results of Term End Examination (TEE) December, 2018. Before filling the exam form, please do check the status of December, 2018 Examination by Clicking Here. The candidates whose TEE Dec'18 IGNOU result have not yet declared, need not to wait anymore and should fill the examination form for TEE June'18.
Process to submit IGNOU Exam Form
From the available options, select and enter the Program code. Please note: BDP is the option code for BA/B.COM/B.SC.
Select IGNOU Exam Center Code from the available options on IGNOU website. For Term-End examination June'18, tentative list of Regional Center wise Examination centers is available on IGNOU website. Please Click Here To View
If in any case the candidate's opted center is not activated as examination center or not allotted due to some unknown reason, he/she will be allotted alternative examination center.
Candidates are requested to choose their IGNOU courses or course carefully while filling the exam form as per their registration details available on IGNOU website. From the list appearing on the screen, candidates needs to select separately the courses for theory as well as practical.
An acknowledgment with Control Number on the screen will be received by the candidate after the successful submission of the examination form. For further reference and record, candidate needs to retain the auto generate Control Number. In order to check the exam form status, after 48 hours of form submission, candidate can check the status via IGNOU website's SEARCH OPTION. Candidate needs to submit the exam form again in case their detail regarding exam form submission is not available.
Related Article: IGNOU Date Sheet June 2020 Released Get Details


IGNOU Correspondence Address:
The Registrar
Student Registration Division (SRD)
Maidan Garhi, New Delhi-110068, India
Phone No.:011- 29532741
For Other Important Number: Click Here
Fax No. : 011- 29532686
E-Mail: [email protected]
Website: www.ignou.ac.in
Are you interested in joining IGNOU Courses ? Fill in your details below and we will connect you with the university.
Admissions Open
Are you interested in taking admission in any distance learning program? Apply now admissions are currently open.