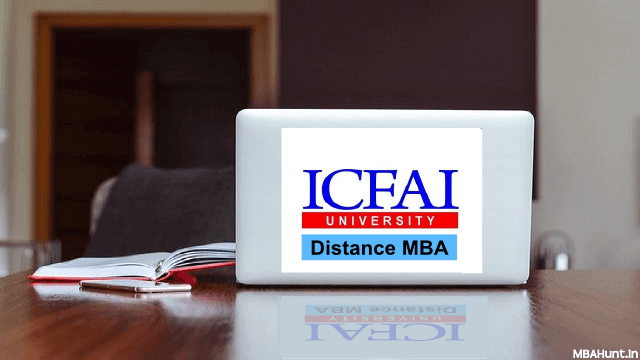 ICFAI University Distance Education
The latest developments in IT and Information technologies have revolutionized higher education. With the evolution of online learning, education has gone digital. Distance learning mode is becoming more and more popular in India and abroad. Many universities are now following the distance education band wagon and had made distance learning an integral part of their structure. Due to huge scope of distance education, its becoming very popular amongst the masses. In general, distance education mostly attracts people who have strong desire to pursue their higher education but are restricted by their responsibilities, financial conditions and their jobs.
In its simplest form, distance learning mode is a medium of getting education without attending normal regular classrooms. Candidates pursue their education via online lectures, virtual classrooms, correspondence study material etc.
In India, earlier Distance Education Council (DEC) was coordinating with various distance learning Universities/institutes in order to maintain the standard of distance learning. But later in the year Dec. 2012, the University Grants Commission (UGC) had transferred all responsibilities regarding the regulation of distance education in India. Today we are discussing about ICFAI University which is one of the leading distance education universities in India.
About ICFAI Distance Education
ICFAI was founded in the year 1984 with an aim of empowering students with quality education. Just after its inception in year 1985, ICFAI institute had successfully launched its famous CFA program. In 1995 ICFAI group had successfully introduced all over India their chain of Indian Business School business school IBS, which are now successfully established amongst the top ranked B-Schools of India. ICFAI group with its PAN Indian network of educational centers is providing remarkable contribution in Indian education system.
The Indian Business School (IBS) also had remarkable accomplishments by provide its student excellent innovative education and infrastructure facilities. ICFAI is totally committed in transforming future of their students by helping them in becoming successful great future leaders. ICFAI Group is divided into three units namely – the ICFAI Universities, ICFAI Business Schools (IBS), and Flexible Learning Programs which is a distance learning mode.
The main focus of these units is to deliver quality education via effective learning patterns. ICFAI had invested heavily in the key areas of research like economics, banking, finance, intellectual property, health, environmental sustainability and agriculture.
ICFAI Group
ICFAI Group had established total 11 universities all over India. They had developed state of art infrastructures in Tripura, Dehradun, Hyderabad, Jaipur, Sikkim, Mizoram, Himachal Pradesh, Nagaland, Meghalaya, Raipur and Jharkhand.
Courses provided by ICFAI University
Bachelor degree & Master degree are provided by the university in subjects like Information & Technology, Law, Hospitality & Tourism Management and Science & Technology.
ICFAI's distance learning mode (ICFAI Flexible Learning) offers students PG program which are especially developed and designed for working professionals.
Many working professionals have desire to pursue higher education but they fail to continue their studies because of financial problem and/or their regular working schedule. Having this fact in mind, ICFAI has come up with the concept of distance education, which is made flexible in many ways in order to suit the needs of working professionals. It is especially designed to make candidate easily understand in a professional way the compact and structured aspect of business management.
The program will develop and improve the candidate's problem-solving skills and decision-making capabilities. It also helps candidates in developing their soft skills, and provides guidelines to have an ethical attitude and moral values. PG level business management programs are offered by ICFAI Business School (IBS) to its students in order to enhance their leadership quality. Following are the programs offered by ICFAI Group:
| | | | |
| --- | --- | --- | --- |
| PG Degree Programs | PG Diploma Programs | Certificate Programs | UG+ Programs |
| Executive MBA | PGDFA | Strategic Finance | BBA |
| MBA | Investment Management | Investment Management | |
| MBA Finance | Derivative and Risk Management | Risk Management | |
| MBA Marketing | Global Financial Market | Risk Management(BFSI) | |
| MBA Human Resource and Management | Talent Management | Treasury Management | |
| MBA Telecom Management | Innovation Management | Global Markets | |
| MBA Pharma Management | Retail Management | Information System | |
| MBA Hospital Management | International Business | Digitization | |
| MMS | | BPM | |
| | | E-Business | |
| | | Business Intelligence | |
| | | Strategic Marketing | |
| | | Global Marketing | |
| | | Retail Marketing | |
| | | Technology Marketing | |
| | | Recruitment, Training and Development | |
| | | HR Operations | |
ICFAI University PG Degree Courses
Executive MBA is an innovative program designed and developed especially having working professionals in mind. It provides information and knowledge of various management functions in major fields like Marketing, Finance, Operations and HR. Real time case studies were provided to give students practical knowledge. ICFAI Flexible MBA program is very convenient for professionals but they need to make sure that they show complete dedication towards their studies and allot proper time from their full time job schedule for serious studies. Gaining professional degree through distance learning will prove beneficial for working professionals because it will improve their growth prospects in a far better way. Below are the programs in which ICFAI University provide Post Graduation Degree:
MMS
MBA HRM
MBA Finance
General MBA
Executive MBA
MBA Marketing
MBA Pharma Management
MBA Telecom Management
MBA Hospital Administration
ICFAI University PG Courses and Fee Structure
Mentioning below is the fee structure for MBA specializations, 2-years MBA and Executive MBA.
MBA Specializations Fee structure (Finance, Marketing, HR, Pharma, Hospital and Telecom Management)
| | |
| --- | --- |
| Particulars | Amount in Rupees |
| Admission Fee | 10,000 |
| Program Fee – Module I | 65,000 |
| Total | 75,000 |
| Lump-sum Payment | 75,000 |
| EMI Facility | |
| Initial Payment (by Demand Draft/ Credit Card) | 10,000 |
| Balance amount to be paid via EMI (including bank charges) by PDC (Post Dated Cheques) | 5,025 |
ICFAI MBA (2 Years) Fee Structure
| | |
| --- | --- |
| Particulars | Amount in Rupees |
| Admission Fee | 5,000 |
| Program Fee – Module I | 58,000 |
| Total | 63,000 |
| Lump-sum Payment | 63,000 |
| EMI Facility | |
| Initial Payment (by Demand Draft/ Credit Card) | 10,000 |
| Balance amount to be paid via EMI (including bank charges) by PDC (Post Dated Cheques) | 3,850 |
| Number of EMI's | 16 |
ICFAI Executive MBA Fee Structure:
| | |
| --- | --- |
| Particulars | Amount in Rupees |
| Admission Fee | 10,000 |
| Program Fee | 1,40,000 |
| Total | 1,50,000 |
| Option I | 1,50,000 |
| Option II | |
| Initial Payment | 20,000 |
| Balance Amount to be paid via 15 equated monthly installments | 9,850 |
ICFAI PG Diploma Courses
Specific PG Diploma programs have been developed for specific management fields. For example, for professionals who deal in foreign market for them PG Diploma in Global Financial market program is designed. For professionals who manage various securities like shares, bonds, etc. for them Investment Management program is developed. For HR Professionals Talent Management program is developed. Understanding and knowledge of various aspect in marketing, HR, portfolio management and financial analysis etc. are provided in PGDFA program.
The post graduation diploma program in Derivatives and risk management explains various strategies at global financial level and also provide professionals an exposure in financial instrument technique. Students can gain abundant knowledge in various management fields via these programs, which will prove very helpful for them when they deal things in real world. Candidates can apply for various positions as professionals once they clear their examination successfully:
Fund Manager
Financial Analyst
Portfolio Manager
Investment Banker
Investment Banker
Innovation Manager
Talent Acquisition Manager
ICFAI PG Diploma Courses Fee Structure
| | |
| --- | --- |
| Particulars | Amount in Rupees |
| Admission Fee | 5,000 |
| Program Fee – Module I | 13,500 |
| Total | 18,500 |
| Lump-sum Payment | 18,500 |
| EMI Facility | |
| Initial Payment (by Demand Draft/ Credit Card) | 5,000 |
| Balance amount to be paid via EMI (including bank charges) by PDC (Post Dated Cheques) | 2,980 |
ICFAI University Certificate Courses
Just like any other programs certificate programs have their own merits. Having certification in your required field has its own advantages. It will not only increase your knowledge and understanding of your field but will also prove beneficial when you are looking ahead in your career growth graph. ICFAI University Certification programs give you the edge over others in your respective field. ICFAI University offers certification programs in various management fields such as financial management and risk management, which helps any working professional to understand his/her company derivative in market. On the other hand certificate program such as Global Marketing are especially designed for implementation of solutions for global audience. Mentioning below the offered certification program by ICFAI:
IT & System
Financial Markets
Risk Management I
Risk Management II
Business Intelligence
Financial Management
Derivative Instruments
Marketing Management
International Marketing
Software Design & Architecture
Marketing of Financial Products
Principle & Practice of Management
Business Environment & Business Law
Portfolio Management & Mutual Funds
Investment Management – Equity & Bonds
Fee Structure for ICFAI Certificate Courses
| | | |
| --- | --- | --- |
| Particulars | Option A Without Exam Fees | Option B With Exam Fees |
| Admission Fee | 2,000 | 2,000 |
| Program Fee | 8,000 | 8,000 |
| Exam Fee | | 2,000 |
| Total Fee | 10,000 | 12,000 |
Refund Policy: Request for refund within 30 days of enrolment will be accepted, course fee will be refunded after deducting cost of courseware supplies fee and admission fee. Any request for withdrawal after 30 days of enrolment will be entertained.
ICFAI Admission Procedure
Application form is available on ICFAI's official website via which candidates can apply for admissions into various ICFAI distance education courses. Fee payment can be made via debit/credit card or Internet banking facility.
ICFAI Awards and Recognition
Many awards have been awarded to ICFAI Group for empowering students with excellent education. Below are the awards received so far by ICFAI Group. Mr. Sudhakar Rao who is Director of Branding for ICFAI Group told that he is very much honored to receive the below recognized awards on behalf of ICFAI Universities.:
2014 – 2015: Leading Private University in India
2013 – 2014: Education Evangelist of India
2014 – 2015: Most Promising Brand Professional Education
2014 – 2016: SkillTree Great Place to Study in India
Self-study is the key and this particular program is especially based on self-study, although for betterment of learning counseling classes are also coordinated. Specially designed books and study materials for the program has been provided by the University. University examinations are held 4 times in a year in the month of January, April, July and October. They offer the exams via Computer Based Test (CBT) which are held at various test centers details of which are available on University official website for every program. Students as per their own convenience can choose center of their choice. We advice all students to check all related details properly before applying for any of course.
Related Article: ICFAI Distance MBA Admission Details
Are you interested in doing any course from ICFAI University? Fill in your details below and we will connect you with the University.
Admissions Open
Are you interested in taking admission in any distance learning program? Apply now admissions are currently open.