ICFAI University Introduction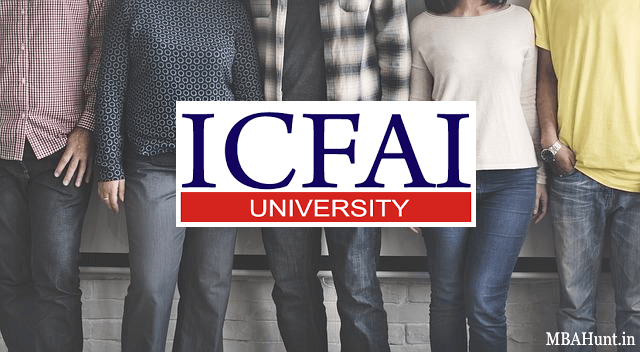 The Institute of Chartered Financial Analyst of India (ICFAI) was introduced in the year 1984 with the purpose of encouraging high class education in the developing world. The University is registered under the Andhra Pradesh, Telangana area Public Societies Registration Act, Act I of 1350 Fasli.
Indian Business School (IBS) and the Certificate Program in Financial Analyst (CFA) were launched by the ICFAI in the year 1985.
ICFAI has sponsored 11 private universities in different states of the country. Its offering higher education in various fields of management with professional courses and specialization. ICFAI Business School has turned out to be amongst the best universities in India with the objective of imparting world class education.
Amongst all the B Schools,IBS Hyderabad is ranked among the top ten B-schools. ICFAI constitutes the largest group of universities.
The main aim of the university is to impart deep learning instead of casual teaching. All major professional topics including banking, intellectual property rights, agricultural economics, environmental sustainability and health policies are covered under its learning area.
ICFAI have been commited to spread education all over and to take the education to another level by supporting practical learning. 'Learning for Leadership' is the mission followed by ICFAI, which reflects in every aspects of the Institute. They have well educated and expert teachers for students with excellent study material for all available courses.
ICFAI Universities are established in the following states of India.
Rajasthan
Mizoram
Uttarakhand
Sikkim
Chhattisgarh
Himachal Pradesh
Tripura
Jharkhand
Hyderabad
ICFAI is well known for its wide social contribution. It takes admissions on merit basis, no management quota allowed. It organizes faculty development programs and also provides good placement opportunities.
The University offers various distance learning Post Graduate Degree Courses, Certification Courses, Postgraduate Diploma Courses and a Undergraduate Course. Given below is the list of courses offered by the ICFAI:
BBA
MMS
PGDFA
MBA HRM
E-Business
MBA Finance
Executive MBA
MBA Marketing
Retail Marketing
Strategic Finance
Global Marketing
Talent Management
International Business
MBA Pharma Management
MBA Telecom Management
MBA Hospital Administration
Awards & Recognitions
Some of the awards and achievements earned by ICFAI Group are as follows:
The university was awarded with SkillTree Great Place to study in India 2014-16
In 2014-15,Most Promising Brand Professional Education
In 2014-15 ICFAI was awarded as Leading Private University in India
In 2013-14, Education Evangelist of India
Bachelor of Business Administration (BBA)
The university offers BBA (Bachelor of Business Administration) to eligible candidates.
The program offers courses that are designed to widen and enhances student's knowledge in all aspects of management including business study and other advance courses.
Those students who want to develop their career in management and business administration field, BBA is a perfect course for them.
Eligibility And Course Structure
Candidates who want to take admission into the BBA course must have passed 10+2 in any discipline form any recognized Education board. Course duration is three years and the medium of instruction is English.
In ICFAI maximum time allotted to complete the BBA course is six years from the date of admission into the course. Therefore it is important to complete the degree in the valid period of time.
But if in case the student is unable to complete the course and still want to continue with the course, candidate will be required to register again along with the desired fees.
BBA course is completely based on self study of the individual as it is a distance education course, but along with self study counseling class will also be conducted to improve the learning process.
The course is specially developed and designed to provide all necessary aspects of management procedure to the students.
Duration of the course is three years. There are total 18 subjects in BBA equally divided amongst the entire course duration
| | | |
| --- | --- | --- |
| Semester I & 2 | Semester 3&4 | Semester 5&6 |
| English I | English II | English III |
| Introduction to Management | Business Law | Sale Management |
| Accounting | Financial Management | Organizational Behavior |
| Quantitative Method | Marketing Management | Business Strategy |
| Introduction to Economics | Human Resource Management | Operation Management |
| IT & System I | IT & System II | Current Affairs II |
| | | | |
| --- | --- | --- | --- |
| Particulars | Amount | Particulars | Amount |
| Option 1 | | Option 2 | |
| Admission Fee | 4,000/- | EMI Facility | |
| Program Fee- Year I | 10,000/- | Initial Payment (BY demand Draft/Credit Card) | 4,000/- |
| Total | 14,000/- | Balance amount to be paid through 3 EMI's | 3,650/- |
| Lump sum Payment | 14,000/- | | |
BBA Payment Method
Candidates need to fill the online application form for enrolling into the BBA course through the online website: www.iusikkim.in/dlp.
After filling the form completely and submission of the form candidates need to make the online payment. Payment can be done through credit/debit cards (HDFC, ICICI Bank) or net banking (ICICI Bank, Yes Bank, South Indian Bank, Federal Bank, Axis Bank, Indian Overseas Bank etc.)
Refund Policy
Refund request by any candidate will be accepted by any candidate only within 30 days of admission. In case request is made after that it will not be accepted by the authority.
Refunded fees will be given by deducting the admission and cost of courseware supplies from the amount paid.
SSD needs to be contacted by the foreign students for fee payable services and for getting the course-ware.
Admission Process
Candidates can apply through the official website of the university. Payment can be paid through Credit Card, Debit Card or Internet Banking.​
Documents Required
Candidates must attach the following documents along with the application form:
Application form for enrollment into the program
Recent colored photograph affixed in application form
Copies of Certificates of DOB and Educational Qualifications (10th, 12th and any other diploma, etc.)
Xerox copy of ID proof(Aadhar Card/Passport)
Fee Remittance Form
Demand Draft/Credit Card Merchant Slip (wherever applicable) towards the payment.
Foreign students aren't allowed for enrollment in the BBA distance education course.
Admission of foreign students isn't allowed because of visa restrictions.
However, if someone holds an Indian passport and staying outside India for a temporary basis. He/she can apply depending on the decision taken by the Admission Committee.
Applications will not be accepted by the authority if the candidate doesn't satisfy the eligibility criteria.
Non eligible application will be returned after deducting Rs. 500 from the paid amount along with enclosure.
Candidate can only able to reapply if he meets the eligibility criteria.
Exam Pattern & Test Centers
ICFAI Exam Pattern is completely online based i.e. computer based test CBT. The department is highly computerized.
The question paper will consist of Multiple Choice Questions (MCQ) and CBT pattern questions in all 3 years of the program.
Bachelor of Business Administration program candidates can choose their examination centers/test centers and time    slot as per their preferences while registering for the examinations.
List of test centers will be updates by the authority on the official website of the university.
Examination are conducted by the university twice a year in the month of January, April, July and October and candidates can obtain all the information regarding the exam from the official website of the university during the same time slot.
ICFAI official website also provides the list of available test centers.
After successful completion of the BBA program, students are awarded with the degree of 'Bachelor of Business Administration program' by ICFAI University, Tripura.
It is important to know for the candidates appearing in the MBA professional course that he/she must avoid backlogs in any of the semester. As students aren't allowed to give backlog examination in subsequent examinations for example they can't able o give backlogs exam of semester I in semester III.
Candidates need to obtain atleast C grade for passing any of the examination. On obtaining D or E grade candidates will have to reappear for that same examination.
| | |
| --- | --- |
| Grades | Meaning |
| A | Excellent |
| B | Very Good |
| C | Good |
| D | Unsatisfactory |
| E | Poor |
Are you Interested in joining ICFAI Distance BBA? Fill in your details below and we will connect you with the Institute.
Admissions Open
Are you interested in taking admission in any distance learning program? Apply now admissions are currently open.