Annamalai University MBA Distance Education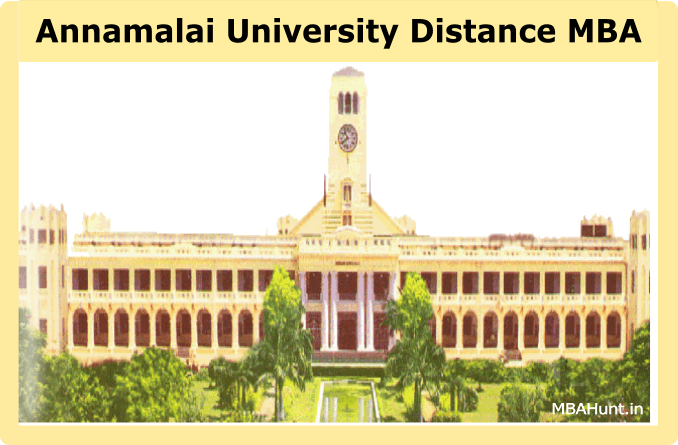 Annamalai University DDE offers Distance Education MBA with 7 different specializations.
MBA (Master of Business Administration) program provides extraordinary skills in the field of management to the students in order to prepare them to perform well at managerial and executive levels in both sectors private or public.
MBA via Annamalai University DDE offers strategic and proper pathway for the learners in aspects of their managerial and business logics development. The education and learning provided accelerates the mind working of the present youth and helps them in acting and thinking more productively.
Local and global case studies are also included in the learning in order to enhance the managerial skills and techniques of the students. Case studies also help the students to become knowledgeable and efficient in business management field.
For best result student must develop a unique study forum as unlike regular school/college student, he/she didn't have full time to dedicate to studies, so study pattern must be different.
Scholarship facilities to more than 300 students who can't support their education financially were provided by the Annamalai University on regular basis.
An MBA degree from Annamalai University Distance education provides applicants a good high profile to apply for various positions as professional such as:
Business analyst or strategist
Entrepreneur/Founder
Financial analyst
Director (of a department)
Marketing associate
Analyst or Manager
Operations analyst
Associate
Management consultant
Portfolio manager
Project
Product
Program Manager and more
Here is the list of MBA Specializations/courses Offered by Annamalai University DDE, in English medium:
MBA General (Available in both Tamil & English Medium)
MBA E-Business
MBA International Business
MBA Human Resource Management
MBA Marketing Management
MBA Financial Management
MBA Information System
MBA Hospital Management
Annamalai University offers MBA program in 2 mediums, i.e.:
Tamil Medium (TM)
English Medium (EM)
Duration of completion of the MBA program is two years, if in case any student fails to obtain the course in the allotted period of time, he/she will be given a period of seven years for the completion of the degree from the date of enrollment.
Annamalai University Distance Education MBA Summary
University Name: Annamalai University
Course Name: MBA (Master of Business Administration)
Course Duration: Two Years
Age bar: No age bar
Eligibility:
For Admission, 10+2+2 pattern degree is not eligible. A candidate needs to be graduate from a recognized University.
Specializations: Annamalai University offers the following MBA specializations
General MBA
E-Business
Finance Management
Hospital Management
Information Systems
Marketing Management
International Business
Human Resource Management (HRM)
Fee Structure: Total fee for Annamalai University Distance MBA: Rs.49,000
Admission Detail:
Twice in a year applications for the distance MBA program are invited by Annamalai University.
Candidates who are interested can fill and submit the application along with the fees and required documents.
For getting admission in Annamalai university MBA program candidates doesn't need to give any admission test.
Approval: Annamalai University has Approval from UGC-DEB.
Annamalai University Distance Education MBA Admission Procedure
Spot admission option is available for candidates who resides near study centers mentioned in University prospectus Annexure-I.
The candidates must make sure that they qualify the eligibility criteria for the admission process. If the candidate fulfills all eligibility criteria he/she must carry the documents mentioned below in order to complete the admission process. Candidates can submit the documents along with the application form to the nearest study center:
Enclosures:
Completely filled MBA application form issued by Annamalai University DDE.
Photocopy of ID proof
Two passport-size current photographs
Qualification certificates Photocopies (10 + 12 + graduation).
One self attested passport size photograph pasted on the MBA application form
Qualification eligibility original certificate and Migration/transfer certificate.
Prescribed MBA fees DD drawn in favour of Director/Directorate of Distance Education Annamalai University
Candidates, who don't live near any available study center, can apply by post.
Students can obtain the application form online from the official website of the university.
After successful completion of the application form candidates need to submit the form along with a DD (Demand Draft) fee of the specific course that they have applied for in the favor of the Annamalai University Director/Directorate of Distance Education.
Candidates also need to attach photo copies of the following documents along with the application form:
ID proof Scan copy
Copy of Transfer/Migration certificates
Two Recently taken passport size photographs
Photocopies of qualification certificates (10,12 & Graduation)
Correspondence Address
The Director, Directorate of Distance Education,
Annamalai University, Annamalainagar,
Pin Code- 608 002, Tamil Nadu.
The University will conduct an entrance exam for admission into the MBA course. For finalizing the admission the candidates need to qualify the entrance examination.
Annamalai University MBA Eligibility Criteria
Students who hold graduation degree in any discipline from any recognized university is eligible for admission into Annamalai University Distance Education MBA Program.
Annamalai University Distance Education MBA Fee Structure
| | | |
| --- | --- | --- |
| MBA | Duration | Fee (INR.) |
| General Management | 2 Years | 39,700/- |
| Financial Management | 2 Years | 39,700/- |
| Marketing Management | 2 Years | 39,700/- |
| HR Management | 2 Years | 39,700/- |
| Event Management | 2 Years | 46,500/- |
| e-Business | 2 Years | 39,700/- |
| International Business | 2 Years | 39,700/- |
More About Directorate of Distance Education and Annamalai University
Established in the year 1928 Annamalai University is amongst the most recognized and renowned universities of India, continuously working with the aim of spreading spreading good and healthy education for the development of Indian students and society as a whole.
The university has been awarded and achieved multiple achievements in various departments during the span of more than 36 years.
Annamalai Univeriy was started with only 7 departments in the year 1929, but now had grown to 49 departments in higher learning level under ten faculties due to the wast development in Indian education sector.
The university provides world class facilities along with well-resourced workroom, computer-labs, laboratories, library and a lush green infrastructure spread across huge area.
Annamalai University DDE is the best learning center in India promoting healthy learning environment and education while maintaining high standards.
It offers courses in multiple distinct for Undergraduates, Postgraduates, Diploma, PG Diploma and Certificate Programs.
Various Undergraduate, Postgraduate, Diploma, Certificate Programs are offered by Annamalai University DDE
In order to encourage students to take active participation in various civil services examinations or exams like IAS, IPS or IFS etc., the University had introduced student's progress cell in order to coach them properly.
Apart from empowering students with knowledge, University also helps students to prepare for future professional life by providing them correct attitude and education for achieving the desired success in life.
Preparation for the campus drives is very important so university makes sure that each every student is completely prepared for it.
For students betterment training courses and seminars are held from time to time, which help students understand in a professional way all the structured and compact management studies aspects.
Student's decision making capabilities and problem solving skills are developed in the program. Apart from these, student's soft skills are developed and for giving them an ethical attitude their moral values are also developed.
In order to transform student's future and help them to become successful leaders of the future, Annamalai University act as a backbone of its students.
Directorate of Distance Education Annamalai University's Recognition & Affiliation
Annamalai University DDE is affiliated by UGC (University Grants Commission), New Delhi. The university is accredited B++ grade by NAAC Society. DEB (Distance Education Board), Delhi had also affiliated Annamalai University DDE.
Departments Annamalai University DDE
Faculty of Arts
Faculty of Science
Faculty of Education
Faculty of Medicine
Faculty of Dentistry
Faculty of Agriculture
Faculty of Fine Arts
Faculty of Engineering & Technology
Faculty of Indian Language
Faculty of Marine Science
Annamalai University Directorate of Distance Education (DDE)
Established in the year 1979, Annamalai University Directorate of Distance Education (DDE) offers more than 500+ courses and specialization in various niches. Courses like Chemistry, Applied Physics, Psychology, Physics, Zoology, Botany, Interior Designing, Hotel Management & Catering Technology, Retail Management, Yoga, Music, Taxation programs, Law, Bioinformatics, Fire & Safety, Fashion Designing, Textile designing, Twinning program etc. are offered by the University via distance mode.
Programs Offered by Annamalai University DDE
Diploma Programs
Post Graduation Diploma Programs
Certificate Programs
Professional Programs
Under Graduate Programs
Post Graduate Programs
For more information regarding Annamalai distance MBA course, its admission procedure and other information candidates can check the university's official website online.
Candidates can also visit the university in person for any kind of information. University Address is mentioned below.​
Annamalai University DDE Contact Details
The Director, Directorate of Distance Education,
Annamalai University, Annamalai nagar,
Tamil Nadu – Pin Code- 608002, India
FAQ – Frequently Asked Questions
Q: Is Distance MBA via Annamalai University good for my Career?
Ans: Founded in the year 1929, Annamalai University is amongst the oldest Indian universities. Annamlai University is situated in Annamalai Nagar, Chidambaram, Tamil Nadu – India.
Annamalai University is well known not only in India but also in aboard for its quality education thats why its a NAAC 'A' grade university and maintain a good reputation amongst Indian students.
Ranked amongst the top ten best Distance education MBA courses, Annamalai University's 2 years distance MBA is reputed and popular between Indian students.
Annamalai University distance MBA is worth considering not only for its reputation but also for its affordable program fees.
Q: Has UGC recognized the Annamalai University Distance MBA?
Ans: Yes, Indeed UGC-DEB recognized Annamalai University distance MBA.
Q: Annamalai University is AICTE approved or not?
Ans: For Universities those offers technical programs in India AICTE approval is a must. But since MBA comes under non-technical courses, it doesn't require AICTE approval, it already had UGC-DEB approval thats sufficient.
Q: Please provide fee structure for Annamalai University distance MBA?
Ans: Annamalai University offer quite affordable fees for its distance education MBA. Total seven MBA specializations has been offered by the university with each having INR. 49,000 fees.
Q: Please provide MBA distance education in Annamalai University application process?
Ans: For Annamalai University distance MBA program admission, you first need to buy the application form.
After completely filling the application form, candidate needs to send the application to the Annamalai University DDE along with the required documents and fee (via demand draft).
You also get in touch with the university officials for more information regarding the Annamalai University Distance MBA admission process.
Are you Interested in joining Annamai University Distance MBA programs? Fill in your details below and we will connect you with the University.
Admissions Open
Are you interested in taking admission in any distance learning program? Apply now admissions are currently open.