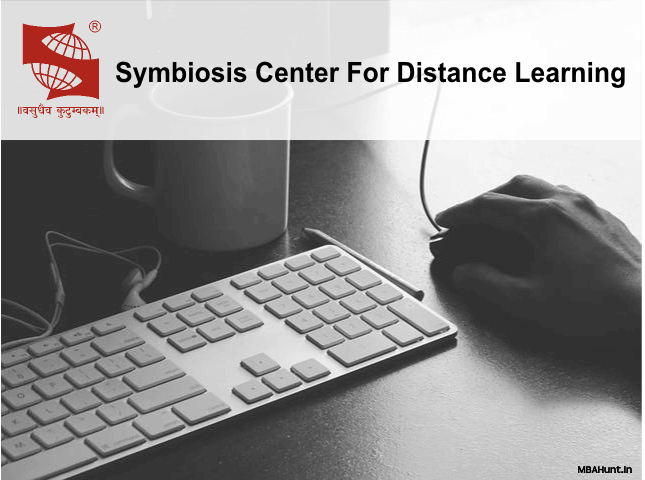 Symbiosis MBA Admission Eligibility Fee Structure 2020
Education plays an important role in our life. How you will be in future will totally depend what type of education you are getting now. Some of us are fortunate to complete our higher education on time, but there are many who can't. Many people in India are not able to complete their education via regular mode due to financial conditions, lack of time and resources. But now with the advent of IT and internet, they can able to fulfill their dream of higher education via distance learning mode. Many big universities and institutes in Indian had understood the importance of distance learning and are now offering various management and other distance courses that are at par with their regular counterparts. Today we are discussing popular MBA with Symbiosis in distance learning which is especially designed for a working professionals.
Symbiosis is amongst the best known institute for distance learning courses in India. Symbiosis MBA courses are very popular not only amongst the students but also with working professionals who can easily do this course while attaining their regular full time jobs. This specialized course had proved big boon for their career and had helped them in acquiring better position in their company. Various career options are available after doing distance MBA from symbiosis are mentioning below:
HR Head
Team Leader
Branch Head
Sales Manager
Brand Manager
Project Manager
Operations Head
Finance Manager
Business Analyst
Financial Analyst
Senior HR Officer
Placement Officer
Purchase Manager
Marketing Manager
Administrative Head
Recruitment Coordinator
Customer Service Manager
Business Development Manager
The secret of Symbiosis success is its unique blended learning methodology for its courses. Different forms of learning methods like virtual classrooms, chat sessions, digital e-learning, self learning material etc. are bring together to form this methodology. Below are the specializations offered under Symbiosis distance MBA (PGDBA) course:
Finance
Marketing
Operations
Management Accounting
Human Resource Management
Customer Relationship Management
Below are the specialized post graduate diploma courses offered by SCDL apart from its post graduate diploma in business administration (PGDBA):
Post Graduate Diploma in IT Management
Post Graduate Diploma in Retail Management
Post Graduate Diploma in Banking and Finance
Post Graduate Diploma in International Business
Post Graduate Diploma in Insurance Management
Post Graduate Diploma in Supply Chain Management
Post Graduate Diploma in Human Resource Management
Post Graduate Diploma in Export and Import Management
Post Graduate Diploma in Customer Relationship Management
Symbiosis Distance Learning MBA Admission Procedure
Below are the steps candidate needs to follow in order to apply in Symbiosis distance learning for mba:
Step 1: Candidate needs to purchase the prospectus & application form, which can be done via 3 available option. a.) It can be purchased online via symbiosis Pune official website. Online form price will be INR.1100.b.) Candidate can buy a hard copy from Symbiosis campus situated in Pune city. Hard copy price will be INR.1200. C.) Candidate can able to get the form from selected branches of Axis bank. SCDL had made available details of these branches on its website: Click Here. Prospectus can also be acquired via post by paying INR.1300 fees.
Step 2: Candidate needs to fill and submit their form online. He/she needs to send their hard copy to Symbiosis colleges Pune campus along with a registration fee of INR.1000.
Step 3: After submitting the application, those students who have not yet appeared in any national or state level or any other equivalent entrance test needs to clear the SCDL-PGDBA Entrance Test in order to get admission in PGDBA course.
Step 4: Candidate needs to pay the fees which can be done in 2 ways: a.) Candidate can pay the complete fee in lump sum or b.) At the time of admission, he/she can pay fees in 2 installments. They need to pay it along with their registration form. Please note if installment option is selected, then the second installment last day will be 15th Candidate can also submit his fees by D.D. (Demand Draft) which will be in favor of 'The Director, SCDL Pune' payable at Pune.
Please Note:-
A separate entrance test fee needs to be paid by the candidate in order to appear for SCDL-PGDBA Entrance Test.
2. For students of SAARC total registration fee is USD 75 and for International students registration fee is USD 100.
Documents required to be submitted along with the Registration Form:
Duly attested by a Class One Gazetted officer or notarized from a Notary academic documents of the candidate.
Two passport size photographs.
Candidate's photo identity proof.
If available document proof of candidate's work experience.
Copy of candidate's valid scorecard of MBA/ CAT/ MAT/ XAT/ G-MAT/ MMS-CET/ ATMA/ C-MAT or any other equivalent entrance test.
If candidate has his/her name changed then a document proof of name change.
Symbiosis MBA Fees Structure
Candidate can able to pay fee in lump sum or in 2 installments. Please note: Once fee is paid its non-transferable or/and non-refundable. Following is the Complete Fee structure of PGDBA course:
Category
Option 1
Option 2 via Installment Mode
One Time Payment
I Installment
II Installment
General
INR. 36,000
INR. 24,000
INR. 16,000
Defense
INR. 33,000
INR. 23,000
INR. 14,000
International
US$ 2300
US$ 1500
US$ 1100
SAARC
US$ 1200
US$ 800
US$ 600
Fee can be paid online via website or by cash which is only get accepted in Symbiosis Pune Campus. Candidate can also pay via D.D. (Demand Draft) payable in favor of "The Director S.C.D.L., Pune".
Distance MBA Symbiosis Eligibility Criteria
Eligibility criteria for getting admission in Symbiosis distance learning MBA courses is given below:
Minimum Graduation required in any disciple from a recognize University.
SAARC/ International graduate from a recognized University or Institution.
Candidates who are in their final year can also apply.
In any of the State Level MBA/ CAT/ MAT/ XAT/ G-MAT /C-MAT/ ATMA/ MMS-CET or at any other equivalent entrance test at National or state level if a candidate had a valid score, he/she can able to apply. Having in mind, it must be valid for current academic year. Also candidates who had qualified in SCDL – PGDBA Entrance Test can apply.
Course Duration for Symbiosis MBA Distance Mode
Course duration is of two years. But if required registration can be valid till four years.
Frequently Asked Questions
Does SCDL have approval from AICTE?
For institutions which are providing MBA degree programs to its students, approval from AICTE is a must. But in case of SCDL, it does not require approval from AICTE as its not offering any degree program.
2. Does UGC recognize symbiosis distance learning courses?
Yes, UGC recognize all distance learning programs offered by SCDL.
3. MBA courses offered by Symbiosis Pune are diploma or actual degree?
Since Symbiosis is not a university, it can't offer degree to its students. So, only diploma courses are offered by Symbiosis center for distance learning. But there is no difference in Symbiosis PGDBA program or other MBA degree program as their course structure is virtually identical to each other.
4. Advantage of doing Distance MBA from SCDL?​
SCDL is amongst the top most prestigious Indian institutions for management studies. Many big companies had hired students who had done their PGDBA from SCDL. Although job guarantee have not been committed by SCDL. But if a student had done his post graduate diploma program from Symbiosis with complete dedication and had scored well, get job will not be that difficult for him.
5. Explain learning methodology used by SCDL?
For student learning SCDL use a blended approach along with a mix of e-learning, face to face faculty interaction and traditional books.
6. Current ranking of Symbiosis MBA?
Many prestigious awards have been won by SCDL MBA (PGDBA) program. It has been ranked amongst the top three distance learning courses in India by various newspapers and magazines.
7. Symbiosis Distance MBA Eligibility Criteria?
In order to be eligible for SCDL Distance PGDBA program, candidate must have atleast graduation in any discipline from any recognized University.
8. Symbiosis distance MBA application process?
Candidates need to purchase a prospectus cum application form in order to take admission in SCDL PGDBA program. Candidates need to properly fill the application form with all required information and sent it with required documents to SCDL. After filling up the application form candidates needs to clear an entrance test in order to get admission.
9. Symbiosis Pune MBA fees?
Symbiosis Distance MBA (PGDBA) course total fee is approx. Rs.36,000.
10. After completion of the programs, Does any placement assistance offered SCDL?
Yes, placement assistance been offered by SCDL once student completes his course.
Related Article: SCDL Distance Learning Courses with Fee structure
Symbiosis Correspondence Address:
Symbiosis Bhavan
1065 B, Gokhale Cross Road, Model Colony,
Pune – 411016, Maharashtra, India.
Telephone: +91-20-66211000
Fax: +91-20-66211040/66211041
Email: [email protected]
Website: www.scdl.net
Are you interested in joining Symbiosis MBA? Fill in your details below and we will connect you with the institute.
Admissions Open
Are you interested in taking admission in any distance learning program? Apply now admissions are currently open.