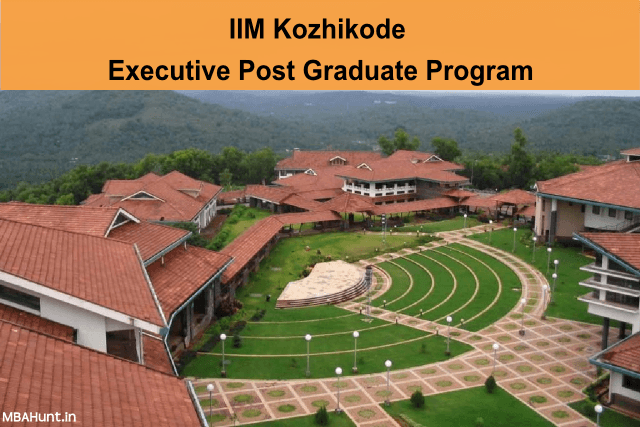 Admission Open for IIM Kozhikode's EPGP Program
In Kerala situated on 2 beautiful hillocks in the Kunnamangalam area of Calicut, IIM Kozhikode was the 5th Indian Institute of Management – IIM established by Indian Government in collaboration with Kerala Government at Calicut in 1996. Credited for pioneering the IDL Program (Interactive Distance Learning Program), IIMK in the year 2001-2002 started the Executive Management Education Program with 300 class contact hours which is now the richest available in India with having 450 class contact hours.
In the field of management education, IIMK is leading in Faculty Development Programs – FDP and considered major Quality Improvement Program – QIP center for All Indian council of Technical Education.
For its students IIMK is having an efficient International Exchange Program and faculty with numerous pioneer management institutes in Europe and ASEAN countries namely University of Queensland – Austria, Victoria University of Wellington, Copenhagen Business School – Denmark, ESCAP-EAP, France, Jonkoping – Sweden, Bacconi, SDA etc. This Institute is a country leader and also known in the world for one of the few Centers for the Development of Digital Libraries. By Business Today report on India's Best B-Schools for the year 2013, IIMK ranked fifth amongst the top Indian management institutes.
As an active member of the Strategic Management Forum, IIMK lays emphasize on coordinating Conferences/ Seminar and conducting management programs for faculty. In order to conduct week long faculty development programs on numerous subjects in strategic management field, IIMK join hands with the leading Management Institutions of India like IIM Bangalore, IIM Ahmadabad, IIM Lucknow, IIM Indore and IIM Calcutta, XLRI – Jamshedpur, , IIFT – New Delhi and MDI – Gurgaon etc.
IIM Kozhikode Campus
IIMK's main campus is one of the most serene campuses in our country, situated in Kunnamangalam which is a sub urban area of Kozhikode. The whole campus is set up in hundred acres of land which consist of classroom, residential area for faculty, students & visitors.
A satellite campus in Kochi has been opened by IIMK in the year 2012 in order to offer Executive Education to the candidates, various full time and part time programs have been developed in order to attract the senior and middle level executives.
IIM Kozhikode Course
Post Graduate Program – PGP
Under PGP core courses are as per below:
Economics
Marketing Management
Financial Management
Strategic Management
Accounting and Control
Information Technology and Systems
Humanities and Liberal Arts in Management
Organizational Behavior and Human Resources
Quantitative Methods and Operations Management
Management Development Program – MDP
Management Development program is designed to provide a candidate deep insights into various managerial concepts and techniques that are relevant for strategy formulation and implementation in to various functional areas.
Faculty Development Program – FDP
Faculty Development program is designed to improve the classroom delivery capacity of a candidate as a faculty and trainer also in order to improve their functional area expertise.
Fellow Program in Management – FPM
Fellow program in Management is IIMs full-time residential doctoral program offered in numerous specialized areas of research in management subjects.
Executive Post Graduate Program in Management – EPGP
Executive Post Graduate Program (EPGP) is a non residential 2 year program for working professionals and executives who are keen to improve their managerial skills and strategies. This program through various business techniques, market insights and meticulously prepared curriculum help candidates develop and improve all the required skill sets to take their organizations ahead to the next level. With 738 classroom instruction hours EPGP program provides students with skills for leadership in the knowledge economy via an innovative curriculum.
EPGP program adopt unique methods in order to challenge and stimulates candidates to explore new innovative solutions to solve their problems. This program equipped the students with various tools which helps them to overcome their limitations and develop right leadership traits with an uncompromising ethics.
Candidate under the guidance and leadership of its world class faculty brought into the desired IIM alumni fold and India's only AMBA accredited institution's worldwide network. Candidates can get good exposure to their organization via this program which will help them to become competitive and globally recognized.
Eligibility Criteria for EPGP Program
A Bachelor Degree in any discipline or its equivalent from a recognized university with minimum 50% (40% in case of SC, ST, PwD) aggregate mark or equivalent CGPA.
Three years of word experience (managerial/ entrepreneurial/ professional) after graduation as on 8th Sep'19.
Admission and Selection Procedure for EPGP Program
Candidates can register and fill the online application form via Institutes official website. Candidate's eligibility to enroll for EPGP program is determined based on the below points:
Information provided by the candidate in the application form
Based on original academic and wok experience records verification on the test / interview day.
Aptitude test score (EMAT/CAT/GMAT)
Personal interview
Candidates who had obtained a valid CAT score (Min 75%) or a GMAT score (Min 650 Score) doesn't required to attend EMAT and will be directly considered for the interview. Please note: Obtained score should not be older than one year from EMAT'19 exam date (8th Sep'19).
EPGP Program Application FEE Payment Instructions
Candidate who are applying for the EPGP program are required to submit INR. 2000 plus taxes as application fee via the below mentioned payment mode:
V-Net Banking (For Vijaya Bank Customers)
Credit Card (Master, Visa, Amex)
Debit Card (Master, Visa, Amex, Rupay)
Net Banking
IIM Kozhikode EPGP Fees
The total EPGP program fee is INR.10,00,000 + 18% GST which can also be payable in seven installments as per the below mentioned schedule:
| | | | | |
| --- | --- | --- | --- | --- |
| Installment | Amount (INR.) | 18% GST | Total Amt. | Due Date |
| 1 | 1,22,000 | 21,960 | 1,43,960 | Nov'18 |
| 2 | 1,22,000 | 21,960 | 1,43,960 | Feb'19 |
| 3 | 1,34,000 | 24,120 | 1,58,120 | May'19 |
| 4 | 1,34,000 | 24,120 | 1,58,120 | Aug'19 |
| 5 | 1,83,000 | 32,940 | 2,15,940 | Feb'20 |
| 6 | 1,34,000 | 24,120 | 1,58,120 | June'20 |
| 7 | 1,71,000 | 30,780 | 2,01,780 | Oct'20 |
| Total | 10,00,000 | 1,80,000 | 11,80,000 | |
Please Note: Installment Due Date will be communicated to the students before the commencement of each quarter. During the process of offer acceptance, candidates are required to remit the 1st installment part payment of INR.20000 + 18% GST by 24th of Oct'19 towards acceptance of offer and confirmation of enrollment. 1st installment Balance amount needs to be remitted by 19th Nov'19.
Alumni Registration Fee: INR.10,000 + 18% GST
Tentative Important Dates for EPGP Program
| | |
| --- | --- |
| Start Date of Online Application | 4th May'19 |
| Last Date to Apply Online | 13th August'19 |
| EMAT & Interview Dates | 8th, 9th Sep'19 |
| Result Declaration | 24th Sep'19 |
| Offer Acceptance & Part payment Last Date (INR.20,000 + 18% GST towards admission confirmation) | 24th Oct'19 |
| First Installment Payment Due Date | 19th Nov'19 |
| Dates of 1st In-Campus | 26th Nov – 1st Dec'19 |
If you are interested in joining IIM Kozhikode's EPGP program. Please find the below enquiry form and we will connect you to Institute's counselors:
Correspondence Address:
Kozhikode Campus
Indian Institute of Management Kozhikode
Executive Post Graduate Program Office
IIMK Campus P. O., Kunnamangalam
Kozhikode – 673 570, Kerala, India,
Phone: 0495-2809417, 223, 412,225
Email: [email protected]
Websie: www.iimk.ac.in
Times Professional Learning (Technology & Infrastructure Service Provider)
Phone: 7400084666
Email: [email protected]
Website: www.timestsw.com
Kochi Campus
Indian Institute of Management Kozhikode,
IIMK Kochi Campus, First Floor,
Software Development Block
Athulya IT Complex, Infopark
Kakkanad, Kochi – 682030
Please Note: Please do not dispatch the application form and supporting documents to IIM Kozhikode
For IIM Kozhikode EPGP program complete information, please check:
Related Article: Top Distance Education MBA in India
Are you Interested in joining IIM Kozhikode programs? Fill in your details below and we will connect you with the Institute.
Admissions Open
Are you interested in taking admission in any distance learning program? Apply now admissions are currently open.