Dr. B. R. Ambedkar Open University (BRAOU), formerly known as Andhra Pradesh Open University, is located in the city of Hyderabad. With a wide network of 206 study centers spread throughout the state of Andhra Pradesh, the University has for its motto "Education at Your Doorstep". The University, the first of its kind in the Country was brought into being through an act of Andhra Pradesh State Legislature in August,1982.
Dr. BRAOU follows a multi-media teaching-learning approach which broadly comprises self-learning print material, supported by audio, video lessons and regular broadcast of lessons through All India Radio. From November, 1999 the University started Telecast of Video lessons through Doordarshan Regional Channel. On Sundays the University has Interactive Teleconferencing on the Regional Channel of Doordarshan.
BRAOU Offers Equal Access to Higher Education:

 
Open University system is flexible in terms of admission, choice of Programs, duration and age requirements, teaching methods and evaluation procedures. Thus it offers an alternative channel to those who missed the opportunities for higher education. The University caters specially to women, working people and those who want to improve their academic qualifications and professional skills. The University lays special focus on socially disadvantaged and geographically isolated people who never had access to higher education earlier.

Why Choose Dr. B. R. Ambedkar Open University?
BRAOU provides access to a large number of heterogeneous learners cutting across the differences in age, gender, location and choice of courses.
The University innovatively designs the undergraduate curriculum as foundation courses, core courses and application-oriented courses.
It creates a wide network of learner support systems.
It reaches out to the unreached through multiple media including broadcast and telecast modes.
It also enhances the interactivity of instruction through live phone-in and teleconferencing.
The University offers courses in three mediums of instruction – English, Telugu and Urdu.
Master of Business Administration

Category: Business Administration
Degree: MBA
Mode: Correspondence
Medium: Distance Learning
Duration: 3-9 Years
Selection Criteria :
M.B.A. – Stands for Master of Business Administration. Typically, an MBA is a two year postgraduate degree, eligibility for which is an undergraduate degree in business management or business administration. Subjects usually studied under this degree are Basics of Management, Statistics, Quantitative Techniques, Financial & Cost Accounting, Managerial Economics, Organizational Behavior, Marketing Management, Financial Management, Human Resources Management, Marketing Research, Industrial Relations, Consumer Behavior, International Business , Software Solutions for Business, Relationship Marketing, Corporate Finance etc.
Post Graduate Program In Management
Degree            :PGDM
Medium          :Distance Learning
Mode               :Correspondence
Duration         :1 Years
Specialization:Marketing Management / Business Finance / Mass Communication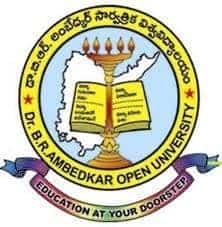 | | | |
| --- | --- | --- |
| Name | : | Dr. B. R. Ambedkar Open University |
| Location | : | Prof.G.Ram Reddy Marg Road No: 46 – Jubilee Hills |
| City | : | Hyderabad |
| State | : | Andhra Pradesh |
| Country | : | India |
| Contact No | : | 040 – 23680000 |
| Website | : | www.braou.ac.in |
Please Note*
This information has been collected from institute / university website or by contacting the institute on phone. Trade Marks belong to the respective owners.
Are you Interested in studying at Dr. B. R. Ambedkar Open University, Center for Distance Learning ? Fill in your details below and we will connect you with the institute.
Admissions Open
Are you interested in taking admission in any distance learning program? Apply now admissions are currently open.