Post Interview Tips –
Below are some post interview tips which will help you to stand out of the crowd:
1. Thank Interviewer In Person, By Email, And Postal Mail
Once your interview is over don't forget to thank each person who interviews you. Writing thank-you emails and notes shortly after the interview will not get you the job offer, but doing so will certainly give you an edge over any of the other finalists who did not bother to send thank-you.
2. Include Supporting Documentation That Illustrates Your Ability To Do The Job
You can also add one or two carefully curated examples of your work (non-confidential work samples, press mentions, etc.) to show off your expertise.
3. Provide Follow-up Response To The Key Interview Questions
If you think you had not given a proper reply to a key interview question. You can include a follow-up response to modify, correct or amplify your previous response.
4. Do Not Dwell On What You Did Or Didn't Say
After the interview do not dwell on what you did or didn't say. Instead go out and do something you love; watch a movie, walk along the river, make yourself an indulgent cup of hot chocolate or talk to a good friend.
5. Don't call Them, They'll Call You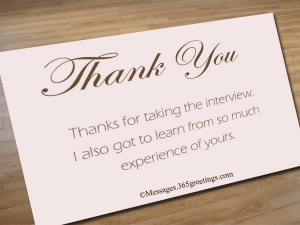 Usually, toward the end of an interview, hiring managers will indicate a general time for when they will contact you. If this was not addressed, be sure to ask them to give you an idea in your initial follow-up e-mail. Only call the employer if given date has passed.
6. Be positive
Succeeding in a job interviews takes research, practice, and persistence. The more effort you put into your interview preparation, the more success you will see in obtaining job offer and even if you didn't get that job. You past interview effort and experience will help you in your next job offer. Be positive and always see the bright side.
Related Article: Pre-Interview Tips
Need Guidance for MBA or Executive MBA Admission? Please fill in your details below and our counselor will get in touch with you. Please note: Its a free service.
Admissions Open
Are you interested in taking admission in any distance learning program? Apply now admissions are currently open.