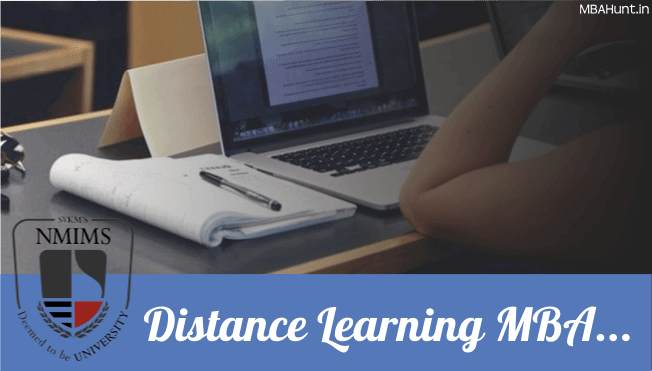 NMIMS Distance Education MBA Admission Fee Eligibility
NMIMS Distance MBA 2019:- With the advent of internet unlimited options are now available to choose in higher education. Internet is not only a blessing for students but also for working professionals who are earlier facing problems in continuing their studies while doing a full-time job and having no extra time to attend classes, many of them have earlier dropped their dream of achieving higher education. Many universities are now not only offering online PG courses but also online specialization especially designed for working professionals. Distance Learning has solved many of our problems.
Today we are discussing about NMIMS which is amongst the top Indian institutes that offers specialization in management courses via distance education. So if you are interested in doing a specialized program in a particular field of business management, you can consider joining NMIMS to study your favorite course in your own hometown.
NMIMS Global Access School for Continuing Education is a comprehensive division of S.V.K.M's NMIMS University. It was previously known as the School of Distance Learning. Distance learning courses offered by NMIMS were approved by the former Joint Committee of UGC-AICTE- DEC and subsequently, its post graduation and diploma programs have been approved by UGC – DEB.
As per the UGC notification, it is been declared that a degree or diploma or certificate awarded by Open Universities in conformity with the UGC notification of degrees must be treated as equivalent to the corresponding awards of traditional universities of our country. Thus all these PG Diploma courses are equivalent to MBA by industry.
As far there is no difference between an MBA and the PG Diploma courses in management but if we look at their basics, PGDM is a diploma which is awarded by autonomous institutions (it should be noted that most distance learning institutes offer diplomas instead of degree) whereas an MBA is a degree program which can only be offered by a University or a College.
Below are the Post Graduate specialized courses in management stream offered by NMIMS University. Duration of all these courses is 2 years. You can also at the time of re-registration on semester II or semester III able to change your specialization of your course.
NMIMS Courses
PG courses offered by NMIMS
PG Diploma in Banking and Finance
PG Diploma in Financial Management
PG Diploma in Business Management
PG Diploma in Marketing Management
PG Diploma in Supply Chain Management
PG Diploma in Human Resource Management
PG Diploma in International Trade Management
NMIMS Diploma Programs
Business Management (DBA)
Marketing Management (DMM)
Financial Management (DFM)
Supply Chain Management (DSCM)
Human Resource Management (DHRM)
International Trade Management (DITM)
Banking and Finance Management (DBFM)
Certification courses offered by NMIMS
IT Management
Digital Marketing
Wealth Management
Project Management
Business Management
Operations Management
Corporate Communication
Advanced Certificate programs:
Digital Marketing
Wealth Management
Operations Management
NMIMS MBA Admission procedure:
​How to Apply?
You just have to follow 3 simple steps process to get admission in NMIMS distance learning MBA:
First a candidate has to register with NMIMS online and have to pay Rs. 1200 as a registration fee.
2. Once registration is done, candidate has to visit any of NMIMS's Authorized Enrollment Partner along with the documents mentioned below:
Aadhaar Card
Academic Documents
Documents showing total work experience (if any)
Photo identity proof along with your recent photographs
The counselor at the Authorized Enrollment Partner office will verify and upload your documents to the system.
It should be noted that a student is not permitted to change his/her Authorized Enrollment Partner after registration is done within a city. He can only able to change his city after paying INR 2500/-.
Candidate has to pay course fee online or via Demand Draft.
Admission happens twice in a year at NMIMS. There are 2 admission sessions:
Spring Batch – 19th September to 10th March
Fall Batch – 11th March to 18th September
Please Note: Dates mentioned above are tentative. Please do check university website for exact date.
NMIMS Fees Structure
There is a onetime admission fee of INR 1200/- for every course. Below are the 3 available options to pay fee for NMIMS distance learning MBA. The fee structure is as below:
Option 1 – INR. 76,000/- (one-time fee)
Option 2 – INR. 41,500/- per year.
Option 3 – INR .22,000/- per semester.
Please Note: NMIMS fees structure mentioned above is subject to change at the discretion of NMIMS University. Please check university website for exact fee structure.
Candidate can pay the fees online via NMIMS portal (website) or by a Demand Draft in favor of "SVKM's NMIMS" payable at NMIMS Mumbai.
There is an examination fee of Rs 600 per subject that all candidates need to pay. The PCP fee is Rs 250 per subject.
Candidate can also able to avail the EMI Facility (3, 6, 9, 12 Months). But this EMI facility is only available through credit cards of the following banks SBI, HDFC, Axis, Citi, ICICI, HSBC, Kotak Mahindra and Standard Chartered.
Eligibility criteria for Admission in Distance MBA Program
​For getting admission in NMIMS management programs, candidate must be a graduate with atleast 50% marks in any discipline from a recognized University or he/she should have an equivalent degree which must be recognized by AIU.
If any candidate don't have 50% marks in graduation, In that case he/she should have a minimum 2 years of working experience in order to become eligible for admission.
Related Article: Top Distance Education MBA in India
Are you Interested in joining NMIMS Distance Learning Insitute? Fill in your details below and we will connect you with the Institute/University.
Admissions Open
Are you interested in taking admission in any distance learning program? Apply now admissions are currently open.