IMT Distance learning MBA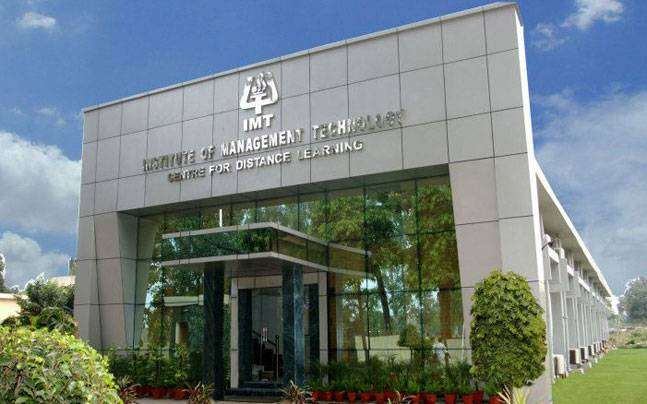 IMT Distance MBA 2020 Education is an enlightening experience of bundle of knowledge, moral values, principles and views. It brings an inherent change in the persons thinking and capacity to do things.
Development has held to improved level of learning and earning, especially in case of professional courses. The modern world demands for effective and efficient managers or employees who possess versatile thinking and doing skills.
Higher education system has been challenged by the complete transformation in the education pattern. Professional distance learning courses are now offered by various top education Institutions for upgrading students and making them an independent learner.
IMT Centre Of Distance Learning is on a progressive path for contributing to this education system in its own way. It is a perfect platform that provides expert faculty of knowledge and skills, various managerial tools which is required for the youth of the country to lead the upcoming business world.
IMT CDL has its campus spread across 6 acres of complete lush green land .The Institute is strategically located in Ghaziabad and is just an hour away from Delhi. The institute is fully advanced consisting of world-class infrastructure, well equipped classrooms, labs, auditorium, and facilities like Wi-Fi, broad library and medical rooms.
The University Grants Commission (UGC) has recognized IMT CDL to provide various professional Post-Graduate management programs vide letter no. UGC/DEB/IMT-II/08 dated 26.06.2015 for the academic year 2015-2016-Reg. Given below is the list of programs offered by IMT CDL through distance learning:
Post Graduate Diploma in Business Administration (1 Year)
Post Graduate Diploma in Management (2 Year)
Post Graduate Diploma in Management (Executive) (1 Year)
IMT Centre Of Distance Learning MBA (PGDM)
Through, Two-year PGDM program, along with the rigorous classroom learning, students get vast exposure to the real world of business through live projects, industry internship, case studies, and interactions with business leaders.
This course is designed to equip students and young minds with well defined management skills and to make them effective for facing the challenging factors of the business world.
Students will be provided with clear concepts of management discipline from this two year of learning.
The curriculum covers all the important topics and specified areas of management. This program will give a clear view to students to work as professionals in their respective specialized fields.
Specializations
MBA PGDM One Year program offers specialization in six different subjects, given below:
International Business
Operations Management
Finance Marketing
Human Resource
Program Structure
The MBA PGDM program consists of a total of four semesters, with 15 core subjects, 4 elective subjects and 1 project/ assignments which the candidates need to submit in end of every semester.
In the initial three semesters of the program students will be guided properly with important domains regarding management, Management concept and techniques. In the 4th semester faculty will taught the candidates about the contents of their chosen specialization.
The candidates need to undertake the electives in areas of their specialization in their final semester. Also the candidates required to select the elective from their particular areas of interest and submit the project/assignments for the same.
Eligibility Criteria
For admission into the MBA PGDM program the candidate must hold a graduate degree in any discipline and must qualify the entrance test conducted for the same.
Given below is the list of candidates who are exempted from the entrance examination:
Graduates with atleast two years of working experience
Candidates with atleast 60% or above aggregate marks in 10th, 12th and graduation.
Legal Professionals/M-Tech/CS/MBBS or CA/ICWA/Technical
IMT-CDL's Diploma holders of One Year Program.
Fee Structure
Candidates can make equal installments in 4 semesters to make the fee payment.​ IMT Distance Learning MBA PGDM program total fees is Rs. 1,10,000.
| | | | |
| --- | --- | --- | --- |
| Semester 1st | Semester 2nd | Semester 3rd | Semester 4th |
| INR. 27,500/- | INR. 27,500/- | INR. 27,500/- | INR. 27,500/- |
Mode Of Payments
For payments candidates have to draw a DD which will be non refundable and only in favor of IMT CDL, payable at Delhi, India.
Fees once paid is non refundable.
Candidates can also make the Payment through payment gateway.
Fee Concessions
In favor of SC/ST candidates, handicapped, retired or serving defense personnel and war widows, IMT CDL had allocated 20% concession on academic fee.
Every year there is a revised version of Fee structure available for students as it keeps on changing from time to time in IMT CDL.
Admission Process
Candidates can avail for admission into IMT-CDL two times in a year. Admissions are open in January & July.
Candidate's selection to IMT distance learning MBA program will be totally based on the screening by the appointed selection committee.
It is necessary for every candidate seeking admission to qualify the entrance test conducted for admission into the MBA/PDGM course.
​Admission form can be obtained by the students from IMT CDL head office.
Candidates must make sure that the form is properly filling, candidate along with the fee draft need to submit the form in IMT CDL head office.​
Only one course at a time is allowed to apply.​
Important Guidelines
Candidates can refer to the official website of the Institute for any update, news or any information regarding the admission process.
As per the requirement of the authority, all policies, rules and regulations, syllabus, fee structure and facilities etc. are subject to restoration and change. Any amendments in the policies and rules will be followed by and will be applicable to every student.
In case of any dispute the case will be subjected to Ghaziabad court.
Admission will be denied by IMT CDL in case if any candidate fails in verification of the documents.
Recognition And Approval
UGC has provided recognition to IMT centre for distance learning.
IMT CDL has approvals to offer distance education courses in India by both UGC and the AICTE.
Please check the copies of IMT CDL approvals.
Approval from AICTE:-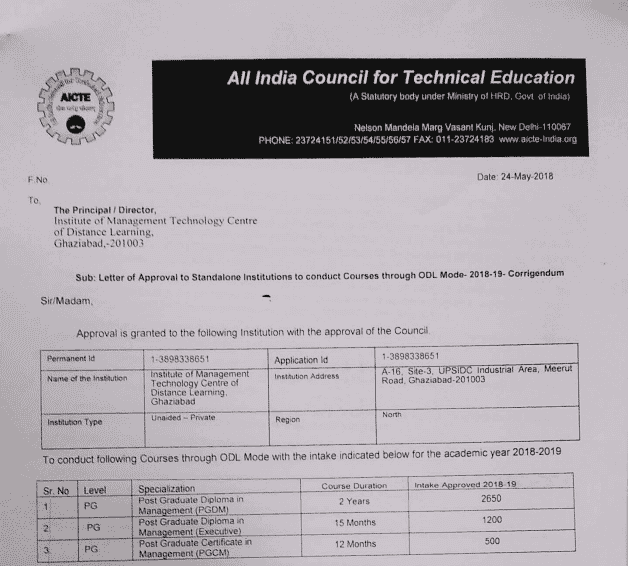 The above AICTE approval letter proves that IMT CDL's PGDM (Executive), PGDM & PGCM courses are approved for the sessions 2020-2021.
​The intake approval for 2 Yrs PG Diploma (MBA) program is 2650. For PGCM program approved intake is 600 and for PGDM (Executive) 1200 is the approved intake.
Approval From UGC:-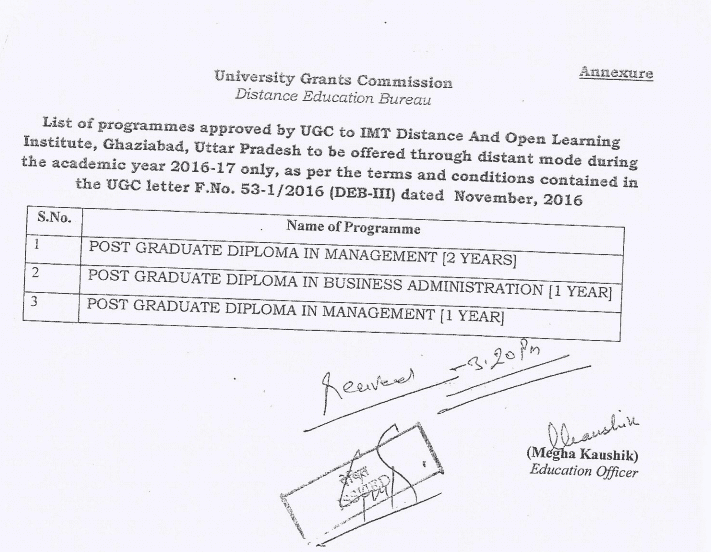 For all 3 distance learning courses in India, IMT CDL also has an approval from the UGC.
FAQ (Frequently Asked Questions)
Question: Determine IMT Ghaziabad distance MBA performance?
IMT Ghaziabad distance MBA (PGDM) program is amongst the top ranked distance learning management programs that are available in India. Both UGC-DEB and AICTE had recognized IMT CDL's 2 year PGDM program.
Many prestigious awards have been won by the IMT distance learning MBA (PGDM) program namely:
AWARD FOR EXCELLENCE IN DISTANCE LEARNING by BBC Knowledge.
National Education Awards by ABP News.
Competition Success Review: Top Distance Learning Institute of India Award and lots of other recognitions.
Question: Is the degree offered by IMT Ghaziabad distance education valid?
Both UGC-DEB and AICTE had recognized IMT Ghaziabad centre for distance learning. So, since the concerned departments had approved IMT, its degree is fairly valid.
Question: IMT distance MBA fee structure information?
IMT CDL PGDM (MBA) program fee is Rs.1,10,000 which can be paid in four equal installments.
Question: Had UGC approved IMT-CDL courses?
Yes, UGC-DEB approved the courses of IMT Ghaziabad distance learning.
Question: Had AICTE approved IMT-CDL courses?
Yes, the AICTE had approved courses of IMT Ghaziabad distance learning.
Question: What are IMT distance education MBA (PGDM) program's eligibility criteria?
Candidate must be either graduate in any discipline from a recognized University or must have an equivalent AIU recognized degree.
Question: IMT distance learning MBA program application process?
Twice a year in the month of July and January, IMT CDL invites applications for admissions.
Those candidates who want to take admission in IMT distance learning MBA program need to buy an admission form by paying INR. 1,100. From IMT CDL office or online via IMT CDL official website, candidates can collect the admission form.
Filled application form need to send by candidates to IMT CDL office. They can pay the fee online via IMT CDL website.
Question: Is there any entrance exam for IMT CDL distance MBA?
Yes, candidates in order to get admission need to clear an entrance exam.
Question: Number of semesters in IMT Distance MBA?
The complete program is of 2 year (24 months) which is divided into 4 semesters.
Question: IMT distance MBA admission last date?
IMT distance Learning MBA admission last date is 15th FEB for IMT January admission cycle. And the last date for admission is 14th August for IMT July admission Cycle.
Question: Please mention IMT – CDL contact details?
IMT – CDL contact no. 1800-200-1063.
Are you Interested in joining IMT Ghaziabad Distance MBA? Fill in your details below and we will connect you with the Institute.
Admissions Open
Are you interested in taking admission in any distance learning program? Apply now admissions are currently open.